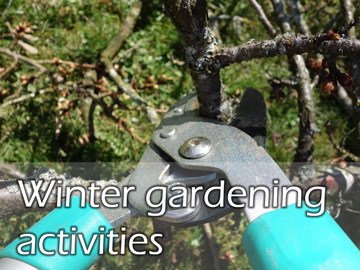 Now the season has turned from autumn to winter and the temperature has fallen, doesn't mean that work in the garden stops. Enthusiastic gardeners everywhere will be continuing to maintain their garden or grounds, in the following areas:
Weeds - just because it's winter doesn't prevent the weeds from growing. Carry on with your weeding programme by keeping borders free from weeds.
Seasonal pruning - don't forget to prune and cut back plants and shrubs.
Soil preparation - why not use this time (before the snow arrives) to add nutrients to your soil.
Maintenance of garden structures and areas - if the weather is kind then why not paint your shed or fences, clean your green house, or pressure wash patios and pathways.
Overgrown areas - should you have any areas of your garden which need clearing of brambles or ivy, then now is a good time to tackle these jobs.
Storm repairs - use this time to repair fencing or trellis.
Leaf clearance - remove autumn leaves from your lawn and pathways, to avoid damage to your grass or becoming a slip hazard on paths.
Snow clearance - keep pathways clear of snow and ice.
If you need help with planting or maintaining your garden then please contact Sanstec Garden via our Facebook page @sanstecgarden.