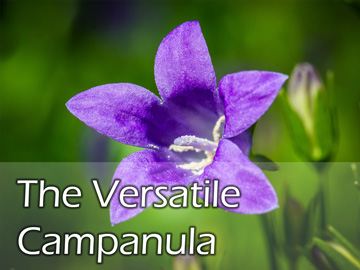 Campanula also known as Bellflower has over 500 species. It has managed to spread and adapt in many countries around the Northern Hemisphere.
This species include annuals, biennials and perennials. Their preferred growing conditions are different as well. Small, compact species originated from alpines and the bigger ones are found in grasslands and woodlands. Therefore when planting these plants in your garden try to provide their preferred growing conditions in order for them to thrive.
Campanula carpatica is a low-growing variety and prefers sunny, moist but well drained soils, especially in winter. You can use it as a ground cover in your borders or plant it in the containers or rock gardens. It flowers from July to September. You can also choose Campanula portenschlgiana, Campanula garganica 'W.H.Paine' or Campanula cochlearifolia 'Elizabeth Oliver' because they all have the same spreading, mound forming habit.
Campanulas usually have blue, pale purple, lilac or white flowers. There are some beautiful white species to choose from such as Campanula lactiflora 'Assendon Pearl', Campanula lactiflora 'Platinum', Campanula lactiflora 'Alba' and Campanula betulifolia. These Campanulas are very tall, growing to 1.5m in height.
Campanula glomerata 'Caroline', Campanula 'Misty Dawn' and Campanula lactiflora 'London Anna' have beautiful shades of purple and lilac. For blue, dark purple species choose Campanula persicifolia 'Pride of Exmouth', Campanula lactiflora 'Favorite', Campanula 'Kent Belle', Campanula glomerata 'Caroline', Campanula lactiflora 'Prichard's Variety' or Campanula latiloba 'Percy Piper'.
If you need help with planting or maintaining your garden then please contact Sanstec Garden via our Facebook page @sanstecgarden.