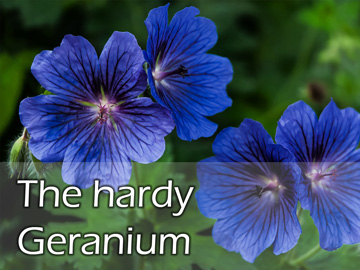 If you are looking for long flowering ground cover or something to cascade down your pots and retaining walls, try planting some hardy geraniums, also known as cranesbills.
This deciduous perennial can grow in any soil as long as it is well drained. Most prefer to be planted in a sunny or partially shaded area, although some geranium varieties can even tolerate full shade. For example Geranium macrorrhizum 'Ingwersen's Variety' is ideal in dry shade and containers; Geranium 'Patricia' likes partial shade, has vivid magenta flowers and a dark purple centre, Geranium phaeum 'Raven' thrives well in damp shade, grows to 60cm in height and produces dark purple flowers. Geranium phaeum 'Album' is a very useful plant because it can grow in damp or dry shade and has beautiful nodding white flowers.
If you seek long flowering plants then Geranium 'Rozanne' has clear blue flowers and keeps on flowering from June to October. Geranium 'Orion' is another long blooming variety.
Geranium 'Bremerry' has the most beautiful, delicate, vibrant magenta flowers and purple foliage, but it prefers a sunnier position. Another sun loving geranium is G. 'Gernic'. This geranium has multi petalled, pale violet flower heads with a lemon-yellow centre.
Geranium 'Ballerina' is an early flowering, dwarf geranium with pale pink flowers and a dark centre. Geranium sanguineum var. striatum is another low growing geranium and produces profusely pale pink flowers until autumn. Geranium maderense has very distinctive, huge glossy leaves and delicate magenta flowers. If you would like a more vivid shade of pink and purple in your garden then you could try growing Geranium Jolly Jewel Purple 'Noortpur'.
Geraniums are a beautiful addition to any garden and their versatility means they can be planted in a container, as part of a gravel garden, or flower border in a cottage style garden.
If you need help with planting or maintaining your garden then please contact Sanstec Garden via our Facebook page @sanstecgarden.