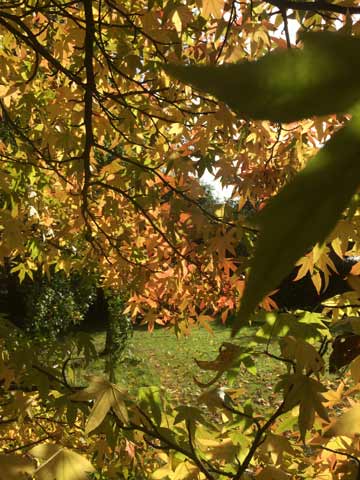 Autumn is a very good time to restore, improve or prepare your garden for winter. Our team of gardeners could help you with the following jobs:
Clear the leaves so you could avoid slipping when the weather turns wet and keep the garden looking tidy and healthy - fallen leaves can harbour disease and cause some harm to your lawns, ponds and water features.
Take care of your lawns by mowing, scarifying, aerating and topdressing established lawns while soil temperatures are warm; feed the lawns, if necessary, with the low-nitrogen, high-potassium autumn lawn feed; replace lawns by sowing grass seed or laying turf.
Trim the hedges, ornamental shrubs and topiary in order to maintain their shape.
Prepare your borders for winter by cutting back, dividing summer-flowering herbaceous perennials; lifting tender perennials before frosts arrive, removing weeds and adding some mulch to improve plant growth, add nutrients to the soil, increase the organic content and reduce water loss from the soil.
Plant some spring flowering bulbs like blue-flowered anemones, narcissus, tulips, crocuses and many other bulbous plants to give your garden a lift and colour at the end of winter.
Care for your timber and hard landscaping features so they could stay in good condition and not cause any damage or accidents.
Help to look after wild life by introducing new plants, install some bird nest boxes, tables and baths, create some insect hotels. Did you know that by leaving some parts of the garden "untidy" in autumn and winter, you would protect the butterflies and other insects and their larvae because they usually hibernate underneath old stems, dead leaves, spent seedheads, dying growth and feed on flowering winter weed nectar.
We are already busy carrying out these jobs in our client's gardens. Contact us now via our Facebook page @sanstecgarden so that we can help you get the seasonal jobs completed in time.