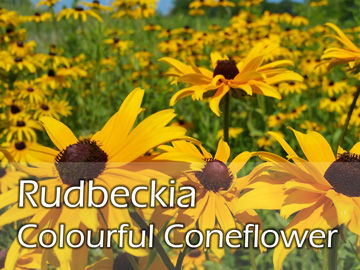 The Rudbeckia, also known as Black-eyed Susan or Coneflower, brings colour to any garden. Annual, biennial and herbaceous perennial Rudbeckias can be planted in mixed borders or pots, and makes a good cut flower.
Rudbeckias prefer full sun, but will tolerate light shade. Plant them in fertile, hummus rich soils so they can retain moisture in spring and summer time. To keep the soil moisture retentive, you can also apply some mulch around the plants in spring. Remember to water Rudbeckias during the dry spells, as this will prolong the flowering period. Do also apply a balanced fertilizer and deadhead the faded flowers during the growing season, as this will not only encourage more blooms to appear, but generally produce bigger flowers.
Rudbeckias are usually known for their yellow flowers, but there are brown, orange and red colours available too. The annuals, Rudbeckia hirta cultivars, have some beautiful dark colours on offer. For example, Rudbeckia hirta 'Cherry Brandy' has cherry-red flowers; the Rudbeckia hirta 'Cappuccino' has bronze coloured petals; Rudbeckia 'Chocolate Orange' has a brown centre and is surrounded by chocolate coloured petals with golden orange tips; and Rudbeckia 'Sonora' has golden flowers with a dark mahogany coloured ring at the center.
Rudbeckai fulgida var. sullivantii 'Goldsturm' is an award-winning perennial that has large, golden-yellow, daisy-like flowers with brown, cone shaped centers and flowers from August to October. Rudbeckia laciniata 'Goldquelle' as the name suggests has fringed, fully double, bright yellow flowers. Rudbeckia laciniata 'Herbstsonne' is another award-winning perennial with golden blooms and very tall stems, growing up to two meters.
If you need help with planting or maintaining your garden then please contact Sanstec Garden via our Facebook page @sanstecgarden.