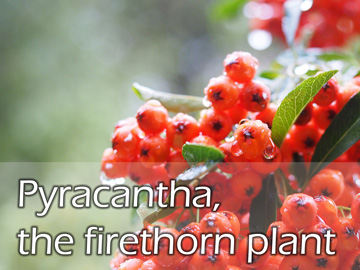 One of our regular customers recently asked me if I knew the name of a plant that was growing in the neighbourhood. Once she started to describe the brightly coloured orange berries I knew straight away that it was one of the Pyracantha species.
Pyracantha, also known as a firethorn, is an evergreen shrub that has many uses and is beloved by the birds and bees. This plant not only produces beautiful clusters of white flowers in early summer and shining colourful berries in autumn and winter, but also lends itself to training, so you can create some beautiful espaliers on the wall or fence and have a very dense hedge.
In order to make sure that your Pyracantha is producing flowers and beautiful berries every year you need to take into consideration a few things:
Plant the Pyracantha in a sunny or partly shaded area. It likes any soil as long as there is no waterlogging.
Prune it when it is in full flower because you will avoid cutting the branches with flowers on, that later will develop into the colourful berries. In midsummer you can remove other side shoots in order to maintain the shape and it can also tolerate a very hard pruning when needed. Pyracanthas have very prickly thorns so make sure you are wearing some gloves when pruning!
Pyracanthas can also be planted in a container. Just make sure that your container is about 18 inches/45cm in diameter and is fed monthly between mid March to mid August with some Potassium rich fertiliser.
There are many cultivars for you to choose from. If you are after some bright orange berries plant Pyracantha 'Golden Charmer', for orange-red fruits and purple-black stems that grow to 9ft/2.7m tall, plant Pyracantha 'Orange Glow'; for shaded walls plant Pyracantha rogersiana that produces orange-red fruits; for a weeping habit and yellow fruit plant Pyracantha rogersiana 'Flava'. For plants with resistance to Pyracantha scab then you might wish to consider one of the Pyracantha Saphyr range or Pyracantha 'Teton'.
As always if you need professional expertise with planting or require general garden maintenance, please contact Sanstec Garden via our Facebook page @sanstecgarden.