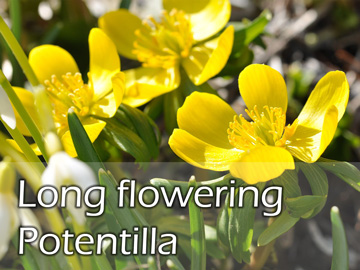 The Potentilla is a very interesting plant. The genus contains a number of varieties which means plants can be grown annually, as an herbaceous perennial or deciduous shrub. The Potentilla thrives in any soil type and tolerates both sun and shade. You can even plant it on slopes or banks, or in coastal or gravel gardens. Likewise it is a very good plant for your containers.
Also called Cinquefoils, Potentillas are available in a range of colours and are particularly valued for having a very long flowering period, which lasts from June until September.
Given the varieties available, you should be able to select a Potentilla which suits the conditions of your garden. For example, Potentilla x hopwoodiana, a clump forming herbaceous perennial, tends to produce more flowers when planted in very sunny and poor soil conditions. In contrast, other species like Potentilla 'Gloire de Nancy' and Potentilla atrosanguinea, perform best in fertile, moisture retentive soils and prefer more shaded areas.
For those of you who want a late autumn colour show in your garden, you may want to consider planting Potentilla nepalensis or Potentilla recta. If you have gaps in flower borders which need filling, then Potentilla x tongue, with red-eye apricot flowers, provides very good groundcover.
If you are interested in attracting wildlife to your garden then by planting Potentilla fruticosa, a deciduous shrub, you will be helping to support the native pollinators like bumble and solitary bees, hoverflies, butterflies, moths and honeybees. In return they will pollinate your crops and reduce the number of various pests and diseases in your garden.
There are so many varieties and colours of Potentilla to choose from, so here are some more of our favourites: Potentilla fruticosa 'Primrose Beauty' produces masses of primrose lemony-yellow flowers from May until October; Potentilla fruticosa 'Pink Beauty' like the name suggests will produce an abundance of pink flowers from late spring until autumn; and Potentilla fruticosa 'Limelight' is a great choice if you would like to see white blooms in your garden. For more vibrant colours then you could choose Potentilla fruticossa 'Lissdan' or Potentilla fruticossa 'Marrob'. All these species enjoy full sun or partial shade, poor to moderate fertile, well-drained soils and are fully hardy.
If you need help with planting or maintaining your garden then please contact Sanstec Garden via our Facebook page @sanstecgarden.