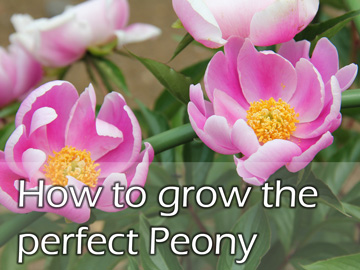 The peony is another impressive herbaceous perennial that delights gardeners in late spring and early summer. We always look forward to seeing the beautiful flower heads appear and watch them open into exquisite, multi-petalled, fragrant flowers. There are so many colours to choose from, so you are really spoilt for choice.
How to care for Peonies
A peony is a very easy plant to look after. They can grow in any soil as long as it is well draining and situated in a sheltered and sunny position. If you would like to enjoy their beautiful blooms every year, make sure that they are not planted too deeply. Apply some general fertiliser in spring if your soil is not very fertile. Remove flowers as they fade and cut dead foliage in autumn. Autumn is also a good time to divide the peonies.
In May
Almost all peonies have a beautiful fragrance and are attractive to pollinators. If you like the colour white you may like to try growing Paeonia lactiflora 'Duchesse de Nemours'. For pink choose Paeonia lactiflora ''Monsieur Jules Elie' that will flower in early summer. Paeonia x lemoinei 'High Noon" has some beautifully fragrant, semi-double, lemon-yellow flowers. For single flower plants you may want to try growing Paeonia lactiflora 'Whitleyi Major'. Paeonia cambessedesii is not a very tall variety of peony, being 45cm in height; this variety has purple-tinged leaves and rose-pink flowers.
If you buy a Peoni and need help with planting or maintenance, please contact Sanstec Garden via our Facebook page @sanstecgarden to discuss how we can provide you with a regular garden maintenance service.