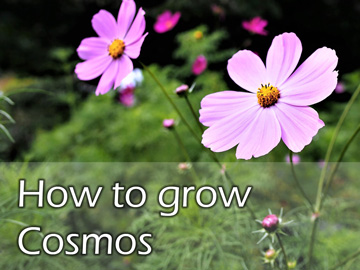 Cosmos is one of the easiest plants to grow. A native of Mexico, Central and Southern America, the plant grows well in any soil as long as it is well draining. Once Cosmos becomes established it needs little water and no fertilizer.
Cosmos is very long flowering and the butterflies love the plant's nectar. To give your Cosmos plants a long flowering season, it is best to sow seeds indoors in March to April, alternatively you can plant them outside in May to June. They are versatile plants, as they can be grown in pots or borders.
Most Cosmos are annuals, but there are some species that are grown as perennials. All cosmos however make a great cut flower. Harvest them when buds are two-thirds to three-quarters open and use cut flower food to prolong their life.
Plant breeders have developed a whole array of colours to choose from. For white varieties there are Cosmos bipinnatus 'Cupcakes White', Cosmos bipinnatus 'Apollo White' or Cosmos bipinnatus 'Purity'. For pale yellow flowers there are Cosmos bipinnatus 'Lemonade' and Cosmos bipinnatus 'Xanthos.
Cosmos bipinnatus 'Apollo Carmine' is a variety that has very deep red to purple coloured blooms. This plant is excellent to grow in pots because it only reaches 65cm in height. Cosmos bipinnatus 'Apollo Pink' and Cosmos sulphureus 'Brightnes Red' are a good choice for pots too.
Cosmos sulphureus 'Carioca' and Cosmos sulphureus 'Tango' produce masses of orange flowers and Cosmos atrosanguineus and Cosmos atrosanguineus 'Thomocha', both perennials, have very beautiful deep chocolate coloured blooms.
If you need help with planting or maintaining your garden then please contact Sanstec Garden via our Facebook page @sanstecgarden.