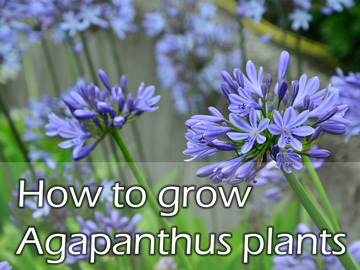 Agapanthus is an excellent plant to grow in containers. Even though they like moisture retentive soils, they seem to produce more flowers when provided with a restricted root growth area.
This perennial originated from Southern Africa where it is known as African lily or Lily of the Nile. There are two types of Agapanthus, deciduous and evergreen varieties. The evergreen species originated from areas with year-round rainfall. If you have these plants in your garden you must water them regularly during dry weather spells to ensure they flower next year, but make sure they do not become water logged. It is also good practice to place some straw, fleece or sand over the evergreen varieties in winter to protect them from harsh weather.
Plant or position the container of Agapanthus in a sunny position. You can apply a balanced liquid fertilizer weekly or fortnightly during the growing season. The best time to divide Agapanthus is after flowering in early autumn, or between spring and early summer. Be patient as it may take two or three years before your newly planted Agapanthus starts to produce the abundant flower displays.
There are many varieties to choose from but some are more popular than others. For example Agapanthus 'Northern Star' flowers from July to August, has tall stems and blue flowers with a dark stripe in the middle. The bicoloured Agapanthus africanus 'Ambic001' also flowers from July to August. The blooms of Agapanthus inapertus 'Midnight Cascade' have a deep purple colour and flower from August to September. If you are after some white in your garden then plant Agapanthus 'White Heaven', an evergreen variety.
If you need help with planting or maintaining your garden then please contact Sanstec Garden via our Facebook page @sanstecgarden.