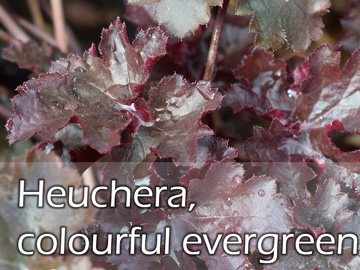 Recently we had snow and cold temperatures, but our gardening team was hard at it despite the weather! Similarly the Heuchera that I saw in a customer's garden was able to cope with most weather conditions too.
Heucheras, mostly evergreen, clump-forming perennials are grown for their colourful foliage and bell like flowers. In order to make an impact in your borders or containers plant them in a group with some spring flowering bulbous plants like tulips, snowdrops, narcissi, crocuses, cyclamens or primulas. Heucheras also provide good ground cover.
How to care
Heucheras like to grow in light, well draining soils. If your soil is quite heavy add some well rotted compost and grit to the planting area.
When planting make sure that the crown, (top centre of the root ball), is at the same depth as the soil surface in order to avoid any rotting later in the year.
Although Heucheras are usually planted in partial shaded positions it can tolerate full sun if their foliage is quite dark.
Apply some mulch and fertilizer in spring, dead head the spent flowers in order to encourage some new ones, clear away dead, damaged foliage and divide every three or four years in late May or early July.
There are many cultivars to choose from. If you like plum or purple colours, Heuchera 'Sugar Plum" or Heuchera 'Palace Purple' would be a good choice for you; for lime green consider Heuchera 'Lime Marmalade' or Heuchera 'Lime Rickey'. All Heucheras produce beautiful flower spikes that can be used for flower arranging too.
For assistance with your garden maintenance, please contact Sanstec Garden via our Facebook page @sanstecgarden.