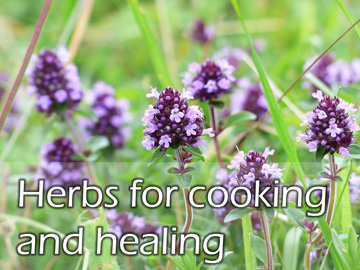 Are you going to Scarborough Fair?
Parsley, sage, rosemary and thyme,
Remember me to one who lives there,
For she/he once was a true love of mine.
[see https://en.wikipedia.org/wiki/Scarborough_Fair_(ballad) for origination]
So runs the opening lines of the song Scarborough Fair, made famous by Simon and Garfunkel.
These aromatic herbs: parsley, rosemary, sage, and thyme are credited with different healing properties and are widely used in cookery. Let's have a look at these herbs individually:
Parsley: It is not only delicious but is rich in vitamins and minerals. Parsley is a biennial and easy to grow, but the seeds are often slow to germinate (sometimes taking up to six weeks). To overcome this problem, soak the seeds in warm water overnight before sowing. Parsley can also be grown in a pot indoors for winter use. For best results select a type of compost which is richer than the soil they need outside. Should you need guidance on what to buy then we would be happy to provide advice.
Rosemary (Rosmarinus officinalis): As the name, Ros Marinus, meaning dew of the sea suggests, it grows well by the sea. This herb is widely cultivated in gardens not only for its pleasant scent, medical and culinary uses but also for the protection against pests for other plants and fruit trees. Rosemary is one of the few cure-all herbs for the herbalists and is beloved by the bees. Rosemary requires a sunny well-drained soil to thrive.
Sage (Salvia officinalis): Salvere, in Latin, means "to be well" and "to save". A tea of sage tops is one of the most refreshing and beneficial herbs to drink. It soothes sore throats and reduces night-sweats. It thrives in a warm, dry, sheltered, well-drained garden soil. Sages can also be grown in containers. All sages benefit from trimming back immediately after flowering, which will keep the bush in good shape.
Thyme: Thyme is a wonderful perennial not only as a medicine or a culinary herb but also as a useful plant for your containers or gravel gardens because it can withstand very dry conditions. They are also sometimes planted as a seat, because the crushed leaves give off a wonderful scent. People also plant the mat-forming varieties in cracks, in paving or in gravel paths where they do not mind being trodden on.
Should you be interested in growing your own outdoors herb garden then please contact us via our Facebook page @sanstecgarden. Our experienced horticulturist Janina can provide you with expert advice plus assist with the design and planting of your raised bed or border.