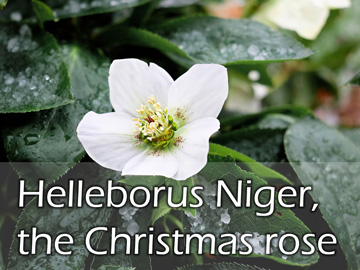 Today I visited a garden centre and the first plant that caught my eye was Helleborus niger, the Christmas Rose. It is an excellent winter flowering, evergreen perennial that shines brightly over the coldest months of the year.
Helleborus niger originates from the mountains of the Eastern Alps where it is found growing in the woods or on the alpine slopes. Therefore when planting Helleborus niger in our garden or in containers, we need to provide the preferable growing conditions in order to enjoy their beautiful blooms and evergreen foliage.
How to care for the plant
You can plant Helleborus niger in partial shade or full sun if the soil is deep and fertile. They have a deep growing root system so make sure that you dig deep enough when planting them outside because the crown of the plant, (the point where the stem and roots intersect), should be an inch below the soil surface. Therefore double-dig the ground and add some gritty, well-draining spent mushroom compost, leaf-mould or old muck. Make sure that the chosen place is relatively dry and sheltered because Helleborus niger is not used to the wet British climate. In December and July or August apply an inch of mulch around the plant and feed the plant with a balanced fertilizer.
If you need some colour in the shady borders, winter containers, under the trees or large shrubs plant some Helleborus! It is also an excellent plant for flower arrangement and is a good ground cover in woodland gardens.
Should you need any help with planting then please contact Janina our horticulturalist via our Facebook page @sanstecgarden, who will be happy to help you.