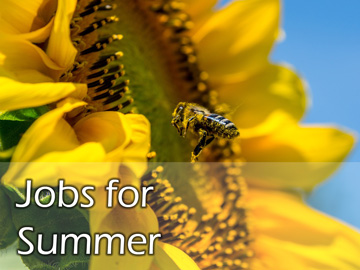 Summer is the perfect time to enjoy your garden, but for it to stay looking amazing you will need to keep on top of a few things.
Some jobs for you to consider:
JUNE
Mow lawns once a week and water the newly sown or turfed lawns during the dry spells.
Don't forget to water and feed the plants in your containers and hanging baskets.
Clip evergreen hedges.
Remove spent flowers of annuals, perennials and roses to encourage more flowers.
Lay some straw around strawberries. It helps to prevent rain splashes and will encourage ripening.
It is a good time to plant pumpkins, squashes, leeks, kale, summer cabbage, celeriac, Brussels sprouts, broccoli, runner beans; sow French beans, beetroot, carrots, lettuce, peas, radishes, rockets and spinach.
Don't forget the birds! Keep on refreshing their water stands.
JULY
Plant some autumn bulbs like Nerine bowdenii, Amaryllis belladonna, Crinum x powellii, Habranthus robustus or Colchicum.
Divide bearded irises.
Trim evergreen hedges.
You can take semi-ripe cuttings from evergreen shrubs, herbs like lavender, thyme, rosemary, sage and clematis.
If the soil is dry, water plants like roses, clematis, agapanthus and camellias.
Prune shrubs and trees that have finished producing flowers.
If you have a pond it is a good idea to make sure that there are some shallow edges or ramps so frogs, toads, newts and hedgehogs can have easy access to it.
In your vegetable garden you can start planting kale, leeks, cauliflower, sprouting broccoli and winter cabbage. It is also a good time to sow winter radish, chard, and perennial spinach.
Turn compost heaps to add oxygen and some water if needed.
AUGUST
Prune Wisteria and established trained pears and apples.
It is not too late to divide bearded irises.
Trim evergreen hedges, lavender after flowering and other herbs.
Collect seeds from perennials and annuals.
Plant spring flowering bulbs and take cuttings of Penstemons and Salvias.
In your vegetable garden you can sow fast-growing radishes, lettuce, rocket, turnips, and oriental vegetables, such as bok choy, mizuna, mibuna, pak choi, tatsoi, shungiku and kailaan.
It is a good time to plant new strawberries.
Prune summer fruiting raspberries.
You can start harvesting onions.
Keep refreshing water for the birds.
Did you know that birds enjoy having a dust bath? You can create a little area for them in your garden by just leaving a dry, free of plants, in a sunny position, sandy patch.
Mow established summer-flowering wildflower meadows.
If you need help with planting or maintaining your garden then please contact Sanstec Garden via our Facebook page @sanstecgarden.