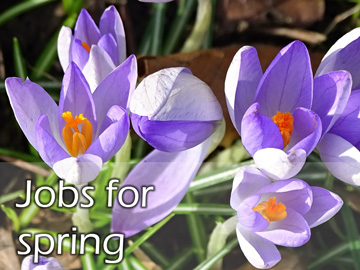 Spring is a very busy time of the year for gardeners. So to help kick start your gardening activities, we have prepared a list of jobs for you to do.
In March
Prune established bushes, standard roses and cornus cultivars to encourage new growth.
Remove weeds, mulch your borders and apply a balanced fertilizer as the plants come into growth.
Cut back and divide overgrown herbaceous perennials.
To encourage wildlife into your garden prepare an area for an annual wildflower meadow; plant native pond plants and mixed hedges. The more wildlife you can attract to your garden the better pest control solution you will have.
Now is the time to plant some rhubarb, asparagus crowns, garlic, shallots and onion sets in your kitchen garden. In order for the seeds to germinate the soil needs to be quite warm, around 7°C (45°F), so check the instructions before sowing seeds outside.
In April
Feed roses
Repair lawn areas and start mowing regularly
Prune shrubs that have just finished flowering, like for example Chaenomeles or Forsythia, and the ones that you wish to encourage decorative leaf growth, e.g. Cotinus and Sambucus.
Trim lavender plants if not done so last autumn
Clip or hard prune evergreen shrubs
Plant annuals and perennials to attract insects
For wildlife care ensure birdbaths hold fresh water and add some piles of logs or rocks in your garden too.
In your kitchen garden you can start planting potatoes; sow beetroot, carrots, Swiss chard, coriander, parsley, lettuce, turnip, cauliflower, spring onions, leeks, radish, peas and spinach.
In May
Apply 'Chelsea chop' to your summer and autumn repeat-flowering herbaceous perennials around RHS Chelsea Flower Show, from which this technique derives its name. In order to delay or extend their flowering period by seven weeks, shorten the plants (to reduce the use of supports), this in turn will produce more numerous flowering stems. It is advisable to cut back the stems of more vigorous perennials by half and those of less-vigorous species by one third. Please visit www.rhs.org.uk website for more information.
Plant your containers and hanging baskets with summer-flowering plants.
Put up nest boxes for summer-migrant birds and top up birdfeeders to help garden birds feed their young
In the kitchen garden earth up your potatoes, harvest rhubarb, asparagus and sow carrots, radishes and other vegetables for continuous cropping.
We hope this blog provides some tips and ideas so you can create your own wonderful looking garden later on in the year.
As always, should you need any advice or require assistance with general garden maintenance then please contact Sanstec Garden via our Facebook page @sanstecgarden.