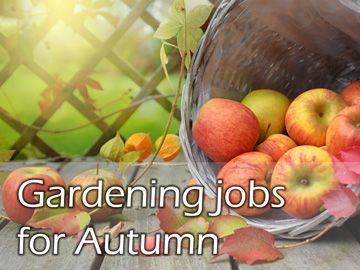 September is traditionally known as the harvest month. Now is the perfect time for gardeners to reap the rewards of their hard summer labour by picking and storing fruit and vegetables. But it's not just the kitchen garden which requires attention, in order to keep all areas of our garden well maintained, throughout autumn and beyond, here are some other jobs for you to consider.
Now the weather is cooling it is a good time to divide herbaceous perennials. Ideally this should be done every few years to aid the plant's growth and provide you with more plants for your garden. Make sure you water all new divisions well. Next spring and summer, when plants start to grow and bloom, you will be able to witness the benefit of regular propagation.
Keep dead heading herbaceous plants, this will encourage them to bloom over a longer period. Don't forget your hanging baskets, if they are kept well fed and watered then they could last until the first frosts appear. To prolong the blooming season of plants in your container garden or patio, elevate pots on feet to avoid water logging.
To keep your lawn well maintained aerate the ground with a garden fork and rake any loose moss or debris. Follow up by adding a feed to the lawn area.
September is when you can start to plan your garden for next year. Using photos or sketches of your garden, consider what has worked and what hasn't. In areas where plants have become congested, identify those which need moving or dividing. Plant out new perennials now. After such a warm summer, the ground has been nicely heated; this combined with the autumn moisture provides the perfect conditions. Plant out spring bulbs such as crocus, daffodils, hyacinth and tulips. Use this time to consider your colour palette. Do you want a rainbow of spring colours or a splash of one or two colour schemes?
We hope you enjoyed our blog. Please visit our Facebook page (@sanstecgarden) to see how we have helped other people transform their garden.