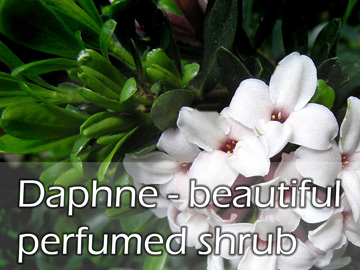 Are you still doing your Christmas shopping? How about getting a beautiful plant for your loved ones? Daphne odora 'Aureomarginata', an evergreen, variegated shrub with fragrant trumpet like flowers, would be a great addition to anyone's garden.
It is an excellent winter flowering shrub so be sure to plant it somewhere near the house so you and the passers by could enjoy the beautiful fragrance of this plant. The other way to enjoy its fragrance is by bringing a few springs of flowering Daphne into your home or office so it could fill the room with a warm, jasmine-like scent.
How to care
Daphne odora 'Aureomarginata' like many other varieties are slow growing and does not like to be moved so make sure you choose the right place for it. Plant it in a sunny or dappled shade, woodland like area where it is sheltered from the wind and cold. South, east or west facing aspects are ideal locations for it because it will be able to produce many flowers and will have an even healthy growth. The soil pH needs to be neutral or alkaline but it will tolerate mildly acidic soil. Although it can grow in any soil it will thrive in humus rich, fertile soils with good drainage. Apply organic mulch annually to keep the root system cool and to improve the texture of the soil by keeping it open and free draining. Sprinkle a handful of blood, fish and bone fertiliser when planting. Daphne requires no pruning.
Growing in containers
Daphne can be grown in a container but the container needs to be quite deep because their roots like to spread. You will also need to provide all the preferable soil conditions: moist, humus rich, free draining. Therefore I would recommend to plant your Daphne in the open ground.
Other varieties
Daphne transatlantic (pictured), a long flowering one; Daphne burkwooddii, with deeper coloured flowers; Daphne susannae 'Cheriton', cushion like, dense shrub, around 40cm/16in high and 90cm/3ft wide; and shade loving D. laureola and D. pontica with scented, yellowish-green flower clusters.
Janina, our award-winning horticulturist can provide advice on where to plant this shrub in your garden. Please contact us via our Facebook page @sanstecgarden.