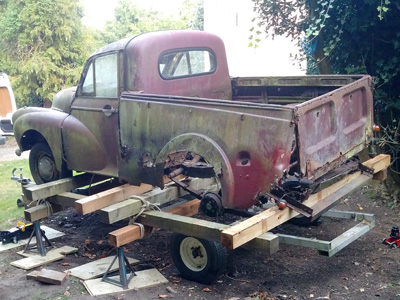 Classic Car extreme recovery - Part 2 and counting.....
After our recent blog about our sister company, Sanstec Garden, asking for us to help it to extricate a 1968 Austin Pickup from a customer's garden, as it very much appeared that it would need some sort of engineered solution to effect a recovery, we had quite a lot of feedback. So, following receipt of these interesting comments and general curiosity on the subject, we thought we ought to provide a little bit of an update on the progress we've made so far.....
With various work commitments and changes in circumstances to manage in the rest of the business, things have taken a little while to progress.....also, it's a challenging proposition and despite us having a clear and intended engineering 'plan/scheme' for recovering the car, we have had to make several 'adaptations' to the original idea/s, when actually working with what we have found.
Unfortunately, the extent of the rot in the metal was even worse than we originally thought; this has essentially resulted in us not daring to lift the car any more than absolutely necessary. The actual wheels were buried down about 3-4 inches in the soil......and hence requiring us to proceed with extreme caution.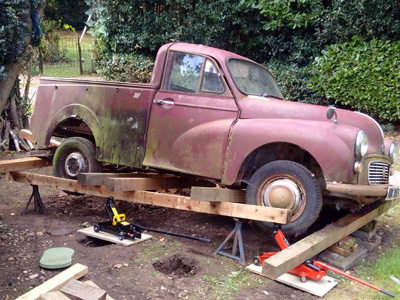 So far we have managed to carefully create a wooden lifting frame around the car and have succeeded in raising the whole thing intact to a height of about half a metre. This allowed us to wheel underneath a low trailer that we adapted for the process from a boat trailer that we had available.
The car has now been towed to a concrete pad on the other side of the driveway so that we can start the process of stabilising the whole thing, (whilst still trying to keep everything intact at this stage), to allow us to tow the car away to our workshop over the coming weekend.
Watch this space for another final update. Also there'll be a case study coming soon on the whole process with the relevant 'engineering' details included.....and of course, if you know of someone who'd like to restore the car or needs it to restore another Austin Pickup, then please get in touch.